DATES
12th of August, 7.30 pm, DiMenna Center for Classical Music, Cary Hall • New York
Nono in New York
Luigi Nono
13th of March, 8 pm, Stadtkirche • Bad Cannstatt
Musik am Dreizehnten
Huihui Cheng, Detlef Heusinger, Olivier Messiaen
10th of March, 7 pm, Peterskirche • Heidelberg
Heidelberger Frühling
Detlef Heusinger, Olivier Messiaen
19th of January, 21.30 Uhr, RBB-Kleiner Saal • Berlin
Ultraschall Festival
Li-Ying Wu, Marta Gentilucci, Roque Rivas, Luigi Nono, Detlef Heusinger
25th of November, time - t.b.a., ZKM • Karlsruhe
Giga-Hertz-Preis
Anthony Tan, Luigi Nono, Ying Wang, Huihui Cheng, Brice Pauset, Detlef Heusinger
3rd of September, 8:00 pm, Schloss • Karlsruhe
Special concert on the occasion of the Plenary Assembly of the World Council of Churches
Detlef Heusinger


--- Achive ---

May 12, 2021: Bregenz, Bregenzer Festspiele, Festspielhaus
Further performances: 12.5., 18:00, 13.5., 10:00, 13.5., 18:00
Feb 16, 2021: Detmold, Die Zeitreisemaschine, Landestheater
Further performances: 17.02, 10:00, 18.02., 19:30 , 5.3., 18:00, 6.3., 14:15, 12.3., 18:00, 13.3., 18:00
Nov 18, 2021: Freiburg, Jübiläumskonzert I, E-Werk
Jul 4, 2020: Freiburg, 900 Jahre Stadtjubiläum, Theater Freiburg
May 20, 2020: Ljubljana, Cankarjec Dom, Linhart Hall
Apr 22, 2020: Arezzo, Festival Artazione, Teatro Pietro Aretino
Apr 1-5, 2020: Fankfurt, Musikmesse Frankfurt Festival, Alte Oper
Mar 13, 2020: Bad Canstatt, Spätgotische Stadtkirche
Sep 21, 0291: Freiburg, Friedenskirche
Jun 5, 2019: Kopenhagen, Klang Festival, Frederiksberg Kirke
Apr 12, 2019: Capolona, ARTazione, Teatro Cinema Nuovo
Apr 6, 2019: Frankfurt, within the scope of Musikmesse Festival
Mar 27, 2019: Bremen, St. Petri Dom
Jan 27, 2019: Bremen, Theater Bremen
Nov 24, 2018: Karlsruhe, ZKM Giga-Hertz-Preis
Nov 16, 2018: Freiburg, SWR Studio Freiburg Schlossbergsaal
Apr 13, 2018: Frankfurt am Main, within the scope of Musikmesse Festival
Feb 28, 2018: Wien, Konzerthaus
with Markus Hinterhäuser (Piano) as a guest
Nov 24, 2017: Karlsruhe, ZKM
Sept 17, 2017: Warsaw, Warsaw Autumn
Sept 16, 2017: Warsaw, Warsaw Autumn
June 24, 2017: Freiburg, Ebneter KulturSommer
June 2, 2017: Ljubljana, matrix on tour
May 27, 2017: Ljubljana, matrix on tour
(further performances on May 28 and 30)
May 1, 2017: Cologne, Acht Brücken Musik für Köln Festival
Mar 12, 2017: Freiburg, JetztMusik
Sept 12, 2016: Lucerne Theater
(further performances on Sept 15, 18, 24, 29, 30 and Oct 8, 9, 15, 2016)
Sept 9, 2016: Lucerne, Lucerne Festival
(further performance on Sept 11, 2016)
Mar 15, 2016: Ljubljana, Cankarjev Dom
Oct 13, 2015: Freiburg, matrix
Sept 13, 2014: Curitiba, Brasilien, matrix14 on tour
Oct 12, 2013: Freiburg, matrix13
Mar 3, 2013: Mainz, Musikhochschule Black Box
Apr 13, 2013: Stuttgart - Bad Cannstatt
Sept 22, 2012: Warsaw, Warsaw Autumn, matrix12 on tour
Aug 26, 2012: Amsterdam, matrix12 on tour
Mar 14, 2012: Bergen, Tinghus, Borealis Festival
May 29, 2011: Freiburg, matrix11
May 25, 2011: Rottweil, ars nova SWR
May 22, 2011: Würzburg, Tage der Neuen Musik
ENSEMBLE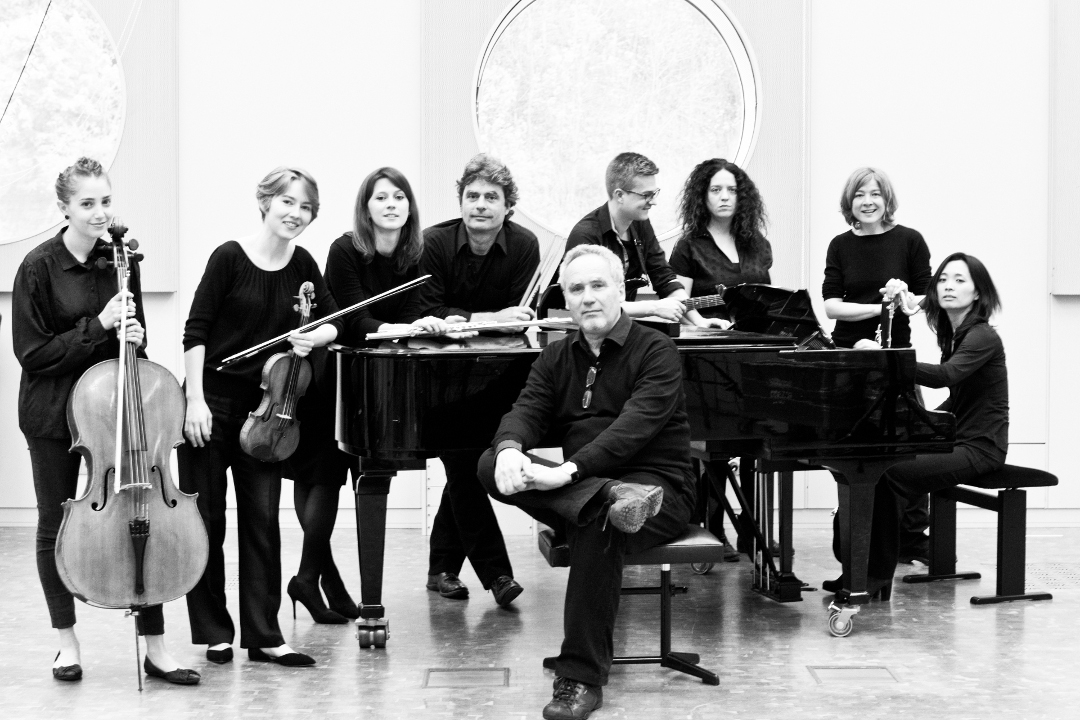 Founded in 2011 in conjunction with the matrix project, Ensemble Experimental (ENEX) was created as a soloists' ensemble for music with live electronics and is associated with the SWR Experimentalstudio in Freiburg i. Br. The Ensemble wishes to do justice to the special performance demands of this genre through studies and intensive rehearsals in order to prepare concerts and recordings in an exemplary fashion.
Some of its members have worked for the SWR Experimentalstudio for a number of years, in some cases taking part in the creation of new works in the studio, as did Roberto Fabbriciani with Luigi Nono. Alongside regular performances with Matrix and at the Jetzt Musik concerts (former: ars nova) of the SWR and the ZKM, they make and have made guest appearances at festivals in Austria, Slovenia, Norway, the Netherlands, Brasil, Poland and Switzerland. The ensemble's CD series (in cooperation with the SWR Experimentalstudio) is currently in production at NEOS. The artistic director and principal conductor is Detlef Heusinger. Guest conductors have been Pavel Baleff, Steven Loy and Peter Tilling.
Detlef Heusinger: artistic director and conductor
Detlef Heusinger, born in 1956 in Frankfurt am Main, is one of the most versatile composers of his generation. He studied composition, conducting, musicology, German and philosophy as well as guitar, lute and piano at the University for Music in Bremen, Cologne, Freiburg and at the Albert Ludwigs University in Freiburg. The most important teachers were Hans Werner Henze and Klaus Huber (composition), Francis Travis (conducting) and Hubert Käppel (guitar). He has been awarded numerous prizes for his compositional work, for example the Stuttgart City Music Prize and scholarships like the Villa Massimo (Rome), the Cité des Arts (Paris), the Heinrich Strobel Foundation of the SWF (Freiburg) and the Baldreit scholarship (Baden-Baden). He taught at the University for Music in Bremen from 1990 until 1996 and led a conducting class at the Music Workshop in Mürztal. He worked as a guest lecturer at the University of Music in Vienna, at Harvard University, Goldsmith University and the University of Montreal.
Central for his compositional works are pieces like "Der Turm" (1989), "Babylon" (1997) and "Schwarzrotgold" (1998), as well as the dance theatre pieces "Totem + Taboo" (1992) and "Volx Muzak" (1993). From 1983, Heusinger worked on live electronics with Luigi Nono, Hans Peter Haller and the team from the Experimentalstudio. As a producer and director of the video opera "Pandora I&II", he designed his first music video in 1993, followed by "Sintflut" in 2001.
From 1991 to 2005, Heusinger worked as a director leading the Rossini Festival on the German island of Rügen. Furthermore, he has been directing operas by Handel, Rossini, Donizetti, Saint-Saëns, Offenbach and Britten in Germany, France, Austria, Poland and Switzerland.
-->
Heusinger has been involved in various festivals as a composer, conductor and director, including Ars Electronica (Austria), the Berlin Festival, Borealis Festival (Norway), the International Summer Course for New Music Darmstadt, the Donaueschinger Musiktage, musica nova (Helsinki), Roma Europa Festival (Italy), the Salzburg Festival and Warsaw Autumn. Groups that have interpreted his compositions include the Arditti Quartet, the Auryn Quartet, the Ensemble Modern, the ensemble recherche, the Israel Contemporary Players, the HR Orchestra, the ORF Orchestra, the DSO Berlin and the SWR Symphony Orchestra. His works have been performed in America, Asia and Europe. As an electric guitarist, he focussed primarily on solo playing with the HR symphony orchestra. He has also worked as a musical director with conductors like Kent Nagano.
Heusinger himself has worked with the Ensemble Modern, the Atlas Ensemble, the Collegium Novum Zurich, the New Music Orchestra (Poland) and the Savaria Symphony Orchestra (Hungary), among others. He founded the Ensemble Experimental (ENEX) since 2011 and leads the ensemble ever since. Furthermore Detlef Heusinger is the artistic director of the SWR Experimentalstudio since 2006
More info about Detlef Heusinger at SWR.
Noa Frenkel: alto
A versatile artist with an affinity for many musical styles, Noa Frenkel is a true contralto with an extensive vocal range. Her concert repertoire reaches from Renaissance to contemporary music.
Born in Israel, she studied at the Rubin Academy of Music in Tel-Aviv and the Royal Conservatoire of the Hague. She has appeared in opera houses in Tel-Aviv (in Arik Shapira's Kastner Trial), Rotterdam (Philip Glass's Achnaton), Milan's La Scala (Luigi Nono's Prometheus), as well as at Festival d'Automne in Paris and Lucerne Festival, with Klangforum Wien, Berlin Philharmonic, and other leading ensembles. Until recently she was a soloist of the Dutch Maarten Altena Ensemble, with which she performed regularly in Europe, Japan, and America, as well as making numerous recordings. She has also performed with Ensemble Modern, the Israel Contemporary Players, Schönberg Ensemble (Amsterdam), Ensemble intercontemporain, and the SWR Experimentalstudio.
She is well known for her operatic roles, which include a number of works by Chaya Czernowin: "Pnima" (Stuttgart Opera), "Adama / Zaïde" (commissioned by Salzburg Festival as "counterpoint" to Mozart's "Zaïde"), and "Infinite Now" (premiered in 2016/17 at the Flemish Opera). She has also appeared in Johannes Kalitzke's "Die Besessenen" at the Theater an der Wien, Franco Donatoni's "Abyss" at the Casa da Música in Porto, Karlheinz Stockhausen's "Sonntag aus Licht" at Cologne Opera, and Giancarlo Menotti's "Medium" in Rotterdam. Her concert repertoire includes Gustav Mahler's "Das Lied von der Erde", which she performed with the Orchestre Symphonique de Mulhouse, "Symphony no. 2" (with Israel Symphony), "Symphony no. 3" (with Jerusalem Symphony), as well as Verdi's "Requiem" (performed at Ljubljana Festival), Morton Feldman's "3 Voices" (in Madrid), John Cage's "Songbooks" (with the Israeli ensemble Musica Nova), and Luigi Nono's "Guai ai gelidi mostri" (Salzburg Festival and Wiener Festwochen). She has appeared under eminent conductors such as Steven Sloane, Ingo Metzmacher, Kenneth Weis, Kenneth Montgomery, Ivor Bolton, Dan Ettinger, Ilan Volkov, Peter Rundel, Friedemann Layer, Gabriel Garrido, Peter Dijkstra, Otto Tausk, and Reinbert de Leeuw.
Noa Frenkel is a cofounder of the Kassiopeia a cappella vocal quintet, with which she recorded all the books of madrigals by Carlo Gesualdo da Venosa.
Maruta Staravoitava: flutes
Born in Minsk, flutist Maruta Staravoitava currently resides in Cologne. Her musical repertoire ranges from Baroque to contemporary music, where she particularly enjoys working directly with living composers. She is a proud member of the Inverspace ensemble in Switzerland, as well as the Ensemble Experimental (ENEX).
She has also performed in numerous ensembles such as Contrechamps in Geneva, Ensemble Contempoarte in Florence, Ensemble Musikfabrik and Ensemble Garage in Cologne, and the Santa Cecilia Orchestra in Rome. She has collaborated with conductors such as Pierre Boulez, Antonio Pappano, Beat Furrer and Jonathan Nott.
In 2010, as a member of Lucerne Festival Academy, performed, among other works, Pierro Lunaire of Schoenberg under the direction of Pierre Boulez. In 2016 she participated in the production of the opera "Prometeo" by Luigi Nono at the Lucerne Theater under the direction of Clemens Heil.
Maruta performs as a soloist and chamber musician frequently in festivals such as Wien Modern, Warsaw Autumn, Lucerne Festival, Davos Festival, Maggio Musicale Fiorentino, Borealis Festival, Tage der neuen Musik Graz, Salzburg Biennale and in the concert season for young artists at the Royal Opera House Covent Garden in London.
An active teacher and animateur, Maruta has delivered many flute and composition masterclasses at the Belarusian State University of Culture and Arts (Minsk), the University of the Philippines College of Music (Manila, Phillipines), the Center for the Electroacoustic Music at Moscow P.I. Tchaikovsky Conservatory (Russia) and at the School for Music and Fine Arts in Paraná (Brazil).
Maruta's concerts have been broadcasted on Radio Poland, SWR and The Bavarian Radio. She has also appeared on the records "Folk Songs" (2014) with Ensemble Experimental (ENEX), recorded at the SWR Experimentalstudio in Freiburg; "Lo spazio apparente" (2013) with the composer Maurilio Cacciatore; and "Fremde Zeit - addendum" by Jakob Ullmann with the ensemble MOCKBA.
Maruta began studying flute and piano at the National Arts Academy from the age of seven with Svetlana Sitnikova. At seventeen, Maruta won an academic place at the Conservatoire Nationale in Strasbourg (France), with Mario Caroli; earning an Advanced Diploma and the interregional prize with honours. She then continued her studies with Felix Renggli at School of Music in Basel. Her profound interest for diverse forms of musical expression then led Maruta to the Bern University of the Arts, where she completed her Masters in Music Theatre under the tutoring of Françoise Rivalland.
During her studies, Maruta was a bursary recipient of the Fondation Nicati de Luze in Lausanne; and was awarded by the Foundation Severino Gazzelloni (Florence) for her performance of the work "Donax" by Italian composer Ivan Fedele. Additionally, she was awarded the unanimous first prize of the UFAM competition (Versailles), the third prize at the Parnasse competition (Paris) and the second prize at the Eugen Coca competition (Chisnau).
Andrea Nagy: clarinets
Andrea Nagy was born in 1978 in Budapest. She started learning the clarinet with András Horn at the Béla Bartók Conservatory in Budapest, later studying under Béla Kovács at the Franz Liszt Academy of Music.
She continued her studies at the Hochschule für Musik Freiburg, Germany, studying under Dieter Klöcker and Jörg Widmann and graduating with a degree in music in 2003. After that she joined the soloist programme under Ernesto Molinari at the Bern University of the Arts. For her performance at her final examination in 2006 she was awarded the Eduard Tschumi Music Prize of Bern for the best soloist in her year. She then stayed at the Bern University of the Arts for a further two years in order to study bass clarinet.
Andrea Nagy has won several prizes, including in 1993 1st prize at the Hungarian National Music Competition. In 2002 she was awarded a scholarship to join the prestigious International Summer Course for New Music Darmstadt, in 2004 she won the Kranichstein Music Prize of the City of Darmstadt, and in 2006 she came 2nd, in 2009 1st at the Nicati Performers' Competition for Contemporary Music, organised by the Swiss Tonkünstlerverein (Musicians' Association).
She has taken part in master classes given by David Smeyers and Eduard Brunner, has participated several times in the International Summer Course for New Music Darmstadt and has worked with Stefan Litwin and Yukiko Sugawara.
With various chamber music ensembles Andrea Nagy has performed at, amongst others, the following festivals: The Festival of Mecklenburg-Vorpommern, Festival Music Today in Seoul and the Lucerne Festival. She has been recorded on CD and also appeared on radio and TV, performing on the music programme "Nachtmusik" for the German TV channel WDR 3 and she was the subject of a feature for the "Musik Debüt" series on the channel SWR.
Apart from Ensemble Experimental (ENEX), Andrea Nagy performs regularly with ensembles such as the Klangforum Wien, Ensemble Modern, Ensemble SurPlus and the Esbjerg Ensemble of Denmark, and she has worked with renowned conductors and composers such as Heinz Holliger, Pierre Boulez, Matthias Spahlinger, Erhard Karkoschka, Cornelius Schwehr, Lucas Vis, Nicolaus A. Huber, Helmut Lachenmann, Markus Stenz, Johannes Kalitzke and Sylvain Cambreling, to name but a few.
József Bazsinka: tuba, euphonium
József Bazsinka Jr. was born in Budapest in 1985 to a musical family. His first teachers included his father József, a solo tubist of international recognition. He graduated in 2010 from the class of László Szabó at the Franz Liszt Academy of Music in Budapest, followed by studies with Jens Bjørn-Larsen at the High School of Music and Theatre in Hannover in 2008. He started his DLA studies at the Franz Liszt Academy in 2010. From 2012 he also took a four-semester course at the Baptist Theological Academy in Budapest.
His awards include the National Tuba Competition in Hungary (2007), International Tuba Competitions in Brno (2008) and in Jeju (2010). In 2010 he became a founding member of In Medias Brass Quintet, which won five 1st prizes and two 2nd prizes in seven major international chamber music competitions in South Korea, Germany, Slovenia, Japan, Italy, France, and the United States, as well as the Junior Prima award, the highest award for young talents in any field of art in Hungary (2011). The groups has performed in Hungary, Europe, South Korea, Japan, and the USA.
József Bazsinka Jr. is a regular member of Klangforum Wien since 2005 and UMZE (Hungarian contemporary music ensemble) since 2013. As a soloist he played in 2014-15 in Luigi Nono's "Prometeo" with ensemble recherche in Amsterdam, Zurich and Paris, and with the SWR Experimentalstudio Ensemble in 2016 at the Lucerne Festival.
Since 2015 he has taught tuba and brass chamber music at the St Stephen Secondary Vocational School of Music in Budapest. Since 2014 he has been a member of the Zugló Philharmonic (National Youth Orchestra) in Budapest.
Rei Nakamura: Piano, Keyboards
A pianist living in Germany, she was born in Tokyo and grew up in São Paulo. She completed her studies in Germany at the High School of Music in Freiburg and postgraduate studies in contemporary music at the HFM University of Music, Saarland, graduating with first-class honours.
She is the author of a number of concept-driven projects, which have been presented in festivals across Europe, South America and Asia. Her current project, Movement to Sound - Sound to Movement for piano, electronics, and video began in 2007, winning the support of Humbolt Foundation, German Music Council and Arts Council England and touring England, Denmark, Sweden, Switzerland, Spain, and Japan.
She regularly performs at venues and festivals such as Festival Usinesonore (Switzerland), Théâtre National du Luxemburg, and Festival Piano+ ZKM. She has been a guest of Monday Evening Concerts (Los Angeles), the Sound of Stockholm, Bernaola Festival (Vitoria), and Classical NEXT (Vienna). Her concerts have been recorded for the radio by broadcasters such as the Saarland Radio, Radio Sweden, Radio Bremen, WDR, German Radio, and SWR. She was invited to the Nachwuchsforum of Ensemble Modern in 2006 and won the Kranichsteiner bursary at the Summer Courses for New Music in Darmstadt. She is associated to Ensemble Experimental (ENEX) and has been a guest of Ensemble Echoi, Ensemble Nikel (Israel/Basel), and Pearls before Swine Experience (Stockholm).
Jügen Ruck: guitar, e-guitar
Jürgen Ruck was born in Freiburg (Germany). He studied guitar in Freiburg with Sonja Prunnbauer and in Basel with Oscar Ghiglia. In 1986 he won first prize in the German national music competition "Deutscher Musikwettbewerb" and in 1990 the international Kranichstein prize for the interpretation of New Music. Jürgen Ruck's repertoire consists of music from the 16th century to the present day. He performs in a big variety of chamber music combinations and has given concerts in many international festivals. He played as soloist for example with Berlin Philharmonic Orchestra, London Sinfonietta, Ensemble InterContemporain Paris, German radio orchestras of Frankfurt, Köln, Hamburg and Saarbrücken, RAI Orchestra Mailand and ORF Orchestra Vienna.
Jürgen Ruck is especially interested in the music of our time: being the guitarist of Ensemble Modern and collaborating with important composers like György Kurtág, Hans Werner Henze, Helmut Lachenmann and John Adams. He played the solo part in György Kurtág's extraordinary composition "Grabstein für Stephan" in its first performance in 1991 with Berlin Philharmonic Orchestra and afterwards in many performances with conductors Zoltan Pesko, Claudio Abbado and Peter Eötvös. The tribute of Hans Werner Henze to the repertoire for guitar is central part of Ruck's work. He has given first performances of several of Henze's compositions, including "Minette", a duo for two guitars that has also been arranged by Ruck, on Henze's request. The recording of Henze's compositions for two guitars (together with Elena Càsoli) won the prestigous award "Echo Klassik 2000 – solistic recording of the year for 20th century music".
Since 2003, Juergen Ruck very succesfully performs his remarkable project "Caprichos Goyescos", a cycle of solo compositions, especially written for him. All these compositions are related to Francisco Goya's famous set of etchings "Los Caprichos". Until now, over 40 pieces were created by 20 different composers. A first CD was released 2005 (Musikproduktion Dabringhaus und Grimm). "Jürgen Ruck is one of the most remarkable guitarists of our time. He has great poetical musicality, which he seems - thanks to his unusual technical ability - to transfer effortlessly in playing. I love very much Ruck's interpretation of my music." (Hans Werner Henze) "Although I have heard many guitarist play my music on both sides of the Atlantic, I must say that Jürgen's interpretations have consistently been the most sensitive and the most musically creative. He has a beautiful sound, a sure rhythmic feel, and he is one of the few guitarist in the world who works in large ensembles without any discomfort or confusion. But it is his career as a soloist that gives us the most cause for optimism. I think Jürgen is one of those special artists who is committed to expanding the repertoire of his instrument and encouraging other composers to write for it." (John Adams)
Jürgen Ruck teaches guitar at the University of Music in Würzburg.
Klara Tomljanovič: guitar
The guitarist, born and also grown up in Slovenia, studied with Professor Sonja Prunnbauer in Freiburg (Germany) and with Professor Oscar Ghiglia in Basel (Switzerland).
Already during her study, the musician started to play in the Aleph Guitar Quartet. In the following years, thanks to an intensive engagement with new music and numerous appearances at festivals of contemporary music in Europe and Asia the ensemble has succeeded in making a name for itself.
During the 14 years of Klara Tomljanovic's membership in Aleph several new pieces originated and the guitar repertoire of the four musicians was considerably enlarged. Some of the important premieres of the quartet were by Vinko Globokar, Nicolas A. Huber, Beat Furrer, Georg Friedrich Haas, Helmut Oehring, Martin Smolka.
Klara Tomljanovic also played with other noted ensembles (Ensemble Mosaic, Academy of the Ensemble Modern, Slowind), orchestras (SWR Symphony Orchestra, orchestra of the Slovenian Philharmonic, orchestra of the Slovenian broadcasting company). In addition, she worked together with the following soloists: Teodoro Anzellotti, Ernesto Molinari, Isao Nakamura, Petra Hoffmann, Renate Greiss-Armin, Miguel Àngel Marín, Uroš Rojko, and others.
Although the musician as a soloist and in chamber music completely dedicates herself to her interpretations of new music on an emotional as well as intellectual level, she does not abandon her classical guitar repertoire. Therefore, her programmes repeatedly distinguish themselves by solo pieces, above all of the early 20th century, which she interprets with sensuous presence, guaranteeing an immense stage presence.
She has performed on the following stages:
Eclat (Stuttgart), Maerzmusik (Berlin), Musik Protokoll (Graz), Musica viva (Munich), Internationale Weingartener Tage für Neue Musik, Hamburger Klangwerktage, Warsaw Autumn (Poland), Archipel (Geneva), Rote Fabrik (Zurich), Pan Festival (South Korea), Villa Massimo (Rome), Festival Slowind (Ljubljana), Teatre Metropol (Spain), ISCM World Music Days …
Klara Tomljanovic lives in Karlsruhe (Germany) and Ljubljana (Slovenia).
Olaf Tzschoppe: percussion
Olaf Tzschoppe was born in Kiel. He studied percussion in Freiburg (Germany) with Bernhard Wulff and in Ann Arbor (USA) with Michael Udow and was a scholarship holder of the DAAD.
His artistic interest is the solo-repertoire and the chamber music of the 20th and 21st century and the interdisciplinary collaboration with other arts. He premiered many solo and chamber music works composed especially for him and participated in radio broadcasts and CD recordings.
For over 20 years Olaf Tzschoppe was a member of the worldwide known soloist ensemble Percussions de Strasbourg with which he has won numerous prizes and awards. He is as well founding member of Ensemble SurPlus and Trio SurPlus, Freiburg and ensemble etendis. Besides that he performed with such ensembles as Klangforum Wien, Ensemble Modern and Ensemble musikFabrik or Münchner Kammerorchester. He is touring regularly Europe, North and South America and Asia.
In addition to solo concerts and performances, he plays concerts with improvised music, composes and writes arrangements.
Olaf Tzschoppe is professor for percussion and chamber music at the University of the Arts Bremen (Germany).
Jenna Sherry: violin and viola
From New Orleans, violinist Jenna Sherry is based in London. A versatile chamber musician who also specializes in historical performance, Jenna has performed at venues including the Kennedy Center, Barbican Hall, the Schoenberg Centre in Vienna, and in the City of London Festival, the Aldeburgh Festival, and the Salzburg Chamber Music Festival. She has collaborated with artists including the Dante Quartet, violinist András Keller, and cellist Steven Isserlis.

She has participated in chamber music festivals around the world, including the Geelvinck Fortepiano Festival (NL), Taos Chamber Music School and Festival (USA), and the International Musicians Seminar Prussia Cove (UK) where she regularly attends the invitation-only Open Chamber Music sessions. Jenna has recorded Unsuk Chin's "Double Bind?" for solo violin and electronics for BBC broadcast, collaborating with the work's original creators at IRCAM and performing it on the BBC Total Immersion series.

Jenna leads the Faust Chamber Orchestra in London and regularly plays with groups such as the Irish Chamber Orchestra, Spira Mirabilis, and John Eliot Gardiner's English Baroque Soloists.

While growing up in New Orleans, Jenna studied with Mary Anne Fairlie and Valerie Paullette. Selected as Marshall Scholar by the British government in 2008, Jenna received a Masters in Performance with David Takeno at the Guildhall School of Music and Drama. She previously received her Bachelors of Music and French from Indiana University where she studied with Mark Kaplan as a Herman B. Wells Scholar. More recently she has worked with Ferenc Rados, András Keller, and Pavlo Beznosiuk.

Jenna is an assistant violin teacher at the Yehudi Menuhin School (Surrey, UK), a specialist music school for students between 8-18 years old.

Jenna is founder and Artistic Director of the Birdfoot Festival in New Orleans, praised for its fresh approach to presenting chamber music and its "youthful, rule-bending style."
Daniela Shemer: violoncello
Daniela Shemer, born in 1988 in Jerusalem, started playing cello at the age of seven. She set her intention to explore the world of classical music, seeking creative and original projects and collaborations. She is the founder and chief editor of MOUNT DELA, a platform for classical music and original art, and a member of Else Ensemble, a German-Israeli ensemble she co-founded with clarinetist Shelly Ezra.
Daniela has performed as soloist, chamber, and orchestral musician in four different continents spanning the world of classical and romantic music to 21st century sounds and world premieres. Based in Germany, Daniela completed a fruitful internship with the International Ensemble Modern Academy (IEMA) and performs regularly in workshops and concert tours with the West-Eastern Divan Orchestra under the direction of maestro Daniel Barenboim.
As the cellist of IEMA, Daniela studied and performed with members of Ensemble Modern, concertizing at the Centre Pompidou and Le CENTQUATRE (Paris), Lee Hysan Concert Hall (Hong Kong), ZKM – Center for Art and Media (Karlsruhe) and Konzerthaus (Berlin) among other notable venues. She has appeared in a variety of festivals including the Aldeburgh (UK) and Israel Festival (Jerusalem) and IRCAM-Manifeste Academy in Paris, France. A growing interest in contemporary music has led her to work with such known composers as Helmut Lachenmann, Peter Ruzicka, Carola Bauckholt, Thomas Adès, Luca Francesconi and many others. In 2013, Daniela first joined the Lucerne Festival Academy Orchestra, and later on the ensemble of this group.
Along with her interests in contemporary music, Daniela is an active orchestral musician. As a member of the West-Eastern Divan Orchestra – with which she recorded the complete Beethoven symphonies under the Decca Classics record label – she has performed at the BBC Proms as well as the Salzburg and Lucerne festivals. Appearances with other organizations include the Israel Camerata and the Israel Young Philharmonic Orchestra, where she served as principal cellist. While on tour with a variety of ensembles throughout Europe, South America, USA and Asia, Daniela has performed in the Berliner Philharmonic (Berlin), Musikverein (Vienna), Royal Albert Hall (London) and La Scala (Milan), Teatro Colon (Buenos Aires), among others. Performing both classical and contemporary repertoire, she has worked with such conductors as Daniel Barenboim, Peter Eötvös, Steven Sloane, Thomas Adès, Franck Ollu, Kasper de Roo and Mandy Rodan.
In Israel, Daniela has performed with several chamber music groups, appearing at the Israel and Kfar-Blum festivals, the Jerusalem and Felicja Blumental music centers as well as Kol HaMusika radio station through live-broadcasts. She frequently plays with important ensembles in Israel such as Ensemble Meitar, and Tel Aviv Soloists, and was a member of the Young Musicians Unit of the Jerusalem Music Center. Daniela completed her military service in the prestigious position of Excellent Musician, where she performed in a string quartet providing music education programs to military personnel in the Israel Defense Forces.
Daniela has performed in master classes with Mischa Maisky, Jànos Starker, Frans Helmerson, David Geringas and Philippe Muller and received chamber music coaching from Tabea Zimmermann, Guy Braunstein, Thomas Adès and Menahem Breuer. She earned a Bachelor of Music degree from the Jerusalem Academy of Music and Dance, studying with Shmuel Magen and Zvi Plesser. In 2010, she studied with Michel Strauss at the Royal Conservatoire of The Hague while simultaneously completing a one-year program in Sonology. The following year, Daniela moved to Germany to attend the International Ensemble Modern Academy in conjunction with the Hochschule für Musik und Darstellende Kunst, Frankfurt am Main, from which holds a Master of Music degree.
Click on a member above to read biography.
GUESTS
Guest Musicians
Guest Conductors
Pavel Baleff
Pavel Baleff is chief conductor of the Baden-Baden Philharmonics since 2007 and artistic director of the International Academy of Carl Flesch. He recently worked also with the Wiener Staatsoper and the Zürcher Opernhaus. His engagement in orchestral music enabled Pavel to work with over 50 formations such as the National Opera in Hannover, Komische Oper in Berlin, Semperoper in Dresden, Oper Zurich, Orchestre National Montpellier, Radio Orchestra of WDR Köln, Munich Radio Orchestra or the Bulgarian National Radio Orchestra. He also was leading the Rostock Opera as 1st conductor (1999) and the Dresden Chamber Orchestra as musical director (1998). He has been honored with diverse awards such as the International Classical Music Award in 2012. He collaborated with Ensemble Experimental (ENEX) in 2013 for the first time.
Steven Loy
Widely recognized for his disciplined and insightful performances of contemporary music, conductor Steven Loy has earned a reputation as a committed advocate for modern composers. Based in Ljubljana, he has led the Slovenien premieres of numerous major 20th and 21st century works and is the curator and prinicpal conductor of the Predihano contemporary music series. He is also the conductor of Slovenia's only standing new music ensemble, MD7. He startet to collaborate with Ensemble Experimental (ENEX) in 2014.
Peter Tilling
The ambitious carrier of Peter Tilling got him to work with Philharmonia Orchestra (London), Gulbenkian Orchestra Lisbon, Symphony Orchestra of BR (Bavarian Broadcasting), Münchner Symphoniker, Orquestra Metropolitana Lisbon and with Mozarteumorchester Salzburg, amongst others. In 2011 he conducted Tannhäuser at the Bayreuther Festspiele. Peter Tilling founded and is leading Risonanze Erranti (ensemble for new music) and conducted Ensemble Experimental (ENEX) in 2014 for the first time. Apart from his engagement in contemporary music, he also is interested in historical works and historically informed performances.
Click on a Name above to read biography.
REPERTOIRE
Mark André: 
ab II
...als...
...als... II
...hoc...
Georges Aperghis: 
Dans le mur
Fanck Bedrossian: 
The Spider as an Artist
Alban Berg:
Lulu. Oper
Luciano Berio: 
Folk Songs
Dániel Péter Bíro: 
Mishpatim
Hui Hui Cheng:
Echo & Narcissus
Unsuk Chin: 
Double bind?
Ann Cleare: 
eyam iv (Pluto's Farthest Moons)
Kee Yong Chong: 
Wu Wei. Meng Die
Chaya Czernowin: 
Ina 
Shu Hai
Hugues Dufourt: 
L'île sonnante
Aaron Einbond:
Cartographies
Morton Feldman: 
Three Voices (Excerpts)
Brian Ferneyhough: 
Mnemosyne
Time and Motion Study I + II
Marta Gentilucci: 
...tutt'occhi
Vinko Globokar: 
Anonymus
Jonathan Harvey: 
Ricercare una melodia
Three Sketches
Cristóbal Halffter:
Noche pasiva del sentido
Detlef Heusinger: 
Abraum II 
Abzweige
4 Crossroads
4 Crossroads (Vers. 3)
Die Zeitreis(s)maschine
Lulu's Dream
Lulu. Neufassung des III. Aktes
Noema
Sakura Saku
Ver-Blendung
3 Waka's
Jamilia Jazylbekova: 
S.O.G.
Malika Kishino: 
Lebensfunke
Mauro Lanza: 
La bataille de Caresme et de Charnage
Stefan Maier: 
Thicket (Through Black Spruce)
Olivier Messiaen:
Nr. VIII aus "Quatuor pour la fin du Temps"
Marko Nikodijevic: 
Prituri sa planinata / plac, tminy, odjek
Luigi Nono: 
A Pierre. Dell'azzurro silenzio, inquietum
Das atmende Klarsein
Djamila Boupacha
Guai ai gelidi mostri
La fabbrica illuminata
Omaggio a György Kurtag
Post-Praeludium per Donau
Prometeo. Tragedia dell'ascolto
Quando Stanno Morendo, Diario Polacco 2°
Farangis Nurulla-Khoja: 
Caravan of despair
João Pedro Oliveira: 
Angel Rock
Klaus Ospald: 
Quintett von den entlegenen Feldern
Alwynne Pritchard: 
Graffiti
Lula Romeo:
Entmündigung
Roque Rivas: 
Blumentanz
Steingrimur Rohloff: 
Magic Number
Uros Rojko: 
Spoj
Aufs Maul geschaut
Kaija Saariaho:
Trois Rivières Delta
Giacinto Scelsi: 
Pranam 2
Iris ter Schiphorst: 
In deiner Hand
Karlheinz Stockhausen: 
Mikrophonie
Petra Strahovnik: 
Appulse
Anthony Tan: 
Pose II: On the Shadows of Ideas
un/divided
James Tenney: 
Critical Band
Glissade
Hans Tutschku: 
pressure - divided
Mariana Ungureanu: 
Ne veli vetry
Ying Wang: 
Robotictack
Build Up*
Vito Zuraj: 
Zgübleni
Time-out
---
works marked with * are planned 
MEDIA
Video
Audio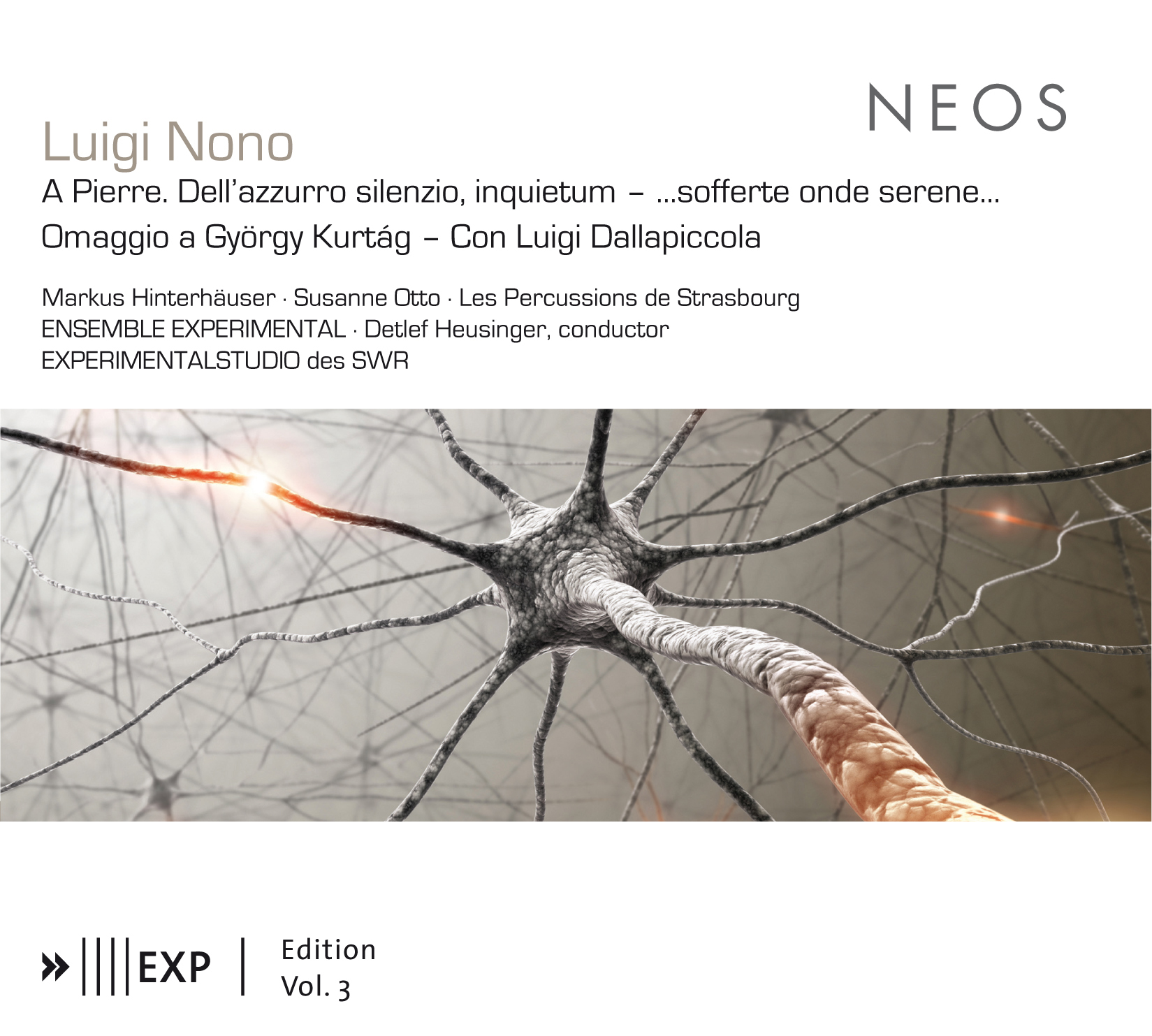 Luigi Nono
A Pierre. Dell'azzurro silenzio, inquietum - …sofferte onde serene… - Omaggio a György Kurtág - Con Luigi Dallapiccola
EXP Edition Vol. 3 Published by: NEOS
www.neos-music.com/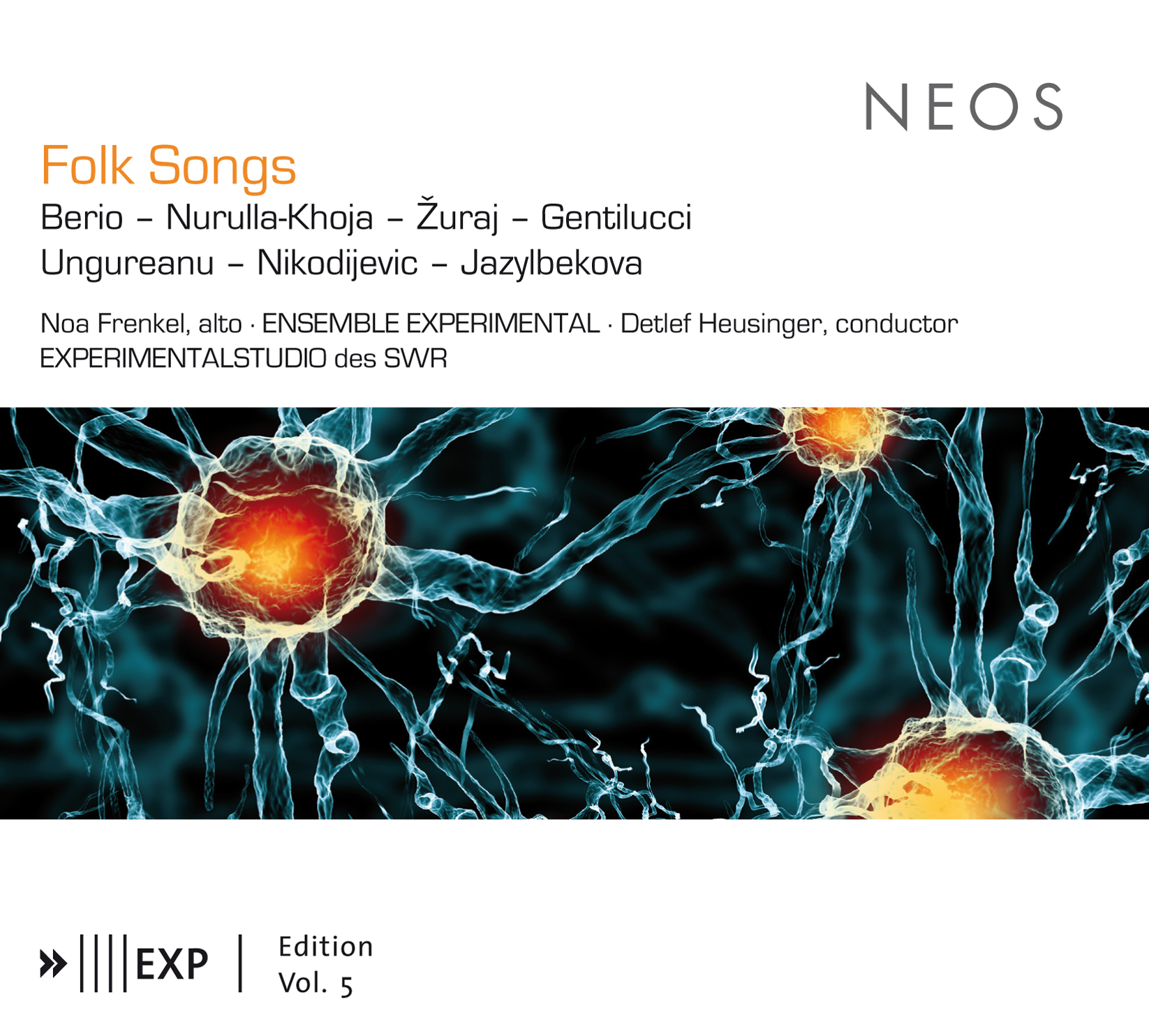 Folk Songs
Berio, Nurulla-Khoja, Zuraj, Gentilucci, Ungureanu, Nikodijevic
EXP Edition Vol. 5 Published by: NEOS
www.neos-music.com/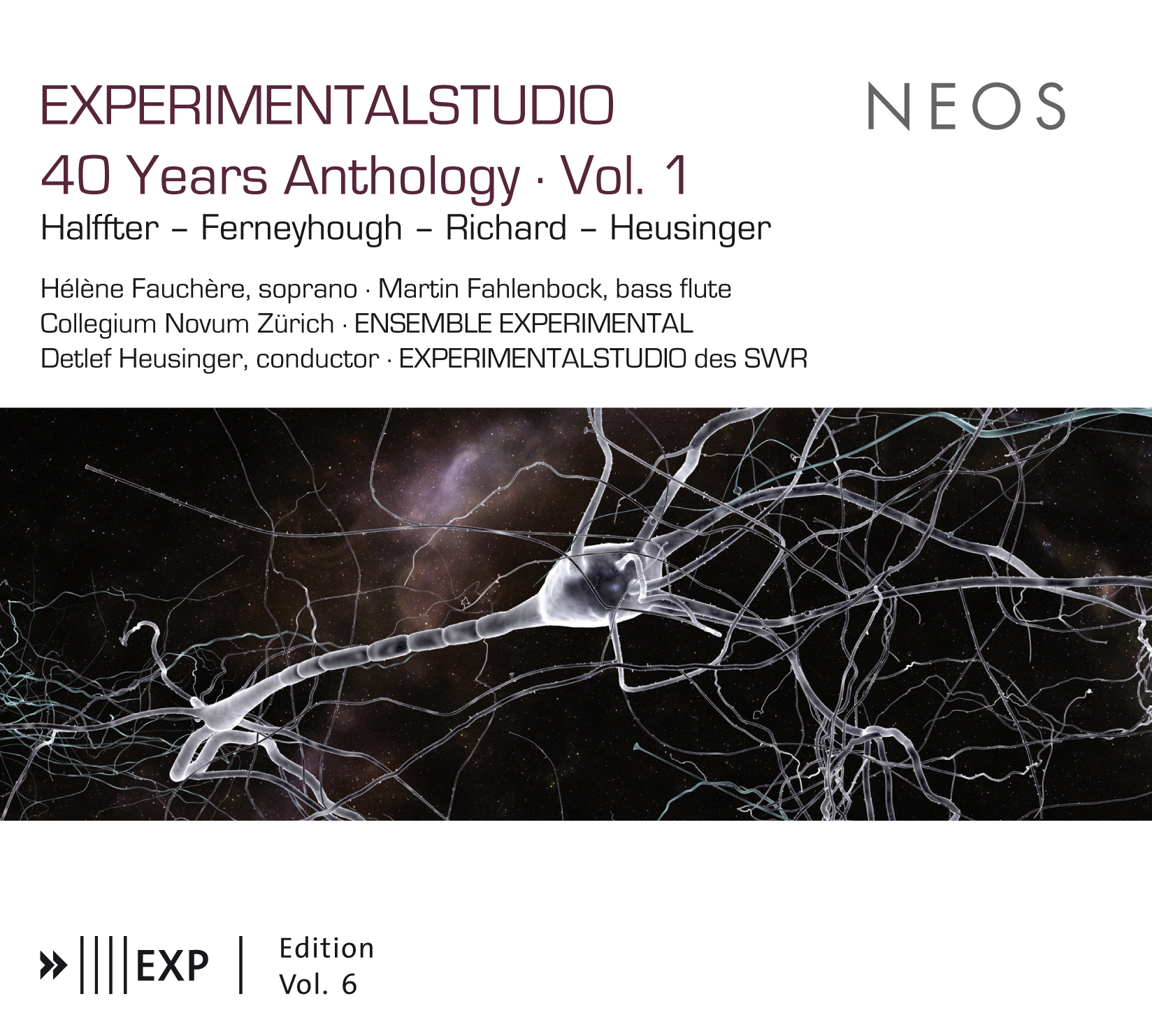 EXPERIMENTALSTUDIO 40 Years Anthology Vol. 1
Halffter, Ferneyhough, Richard, Heusinger
EXP Edition Vol. 6 Published by: NEOS
www.neos-music.com/
Photography
For all photos: Copyright (2017) by Anja Limbrunner: www.anja-limbrunner.de
EDUCATION
matrix
The academy for composing with live-electronics, presented by the SWR Experimentalstudio, invites students in music from universities around the world as well as professional musicians to take part in lectures, masterclasses and workshops. Established composers and musicologists are invited as guest lecturers, in order to promote a high-standard and intense academy featuring the possibility to present and further develop own works using live-electronics. The Ensemble Experimental (ENEX) is a permanent partner of the academy, contributing workshops and lectures. matrix was successfully realized in Germany (Freiburg), the Netherlands (Amsterdam), Poland (Warsaw), Brazil (Curitiba) and Slovenia (Ljubljana).
For further information, see: www.experimentalstudio.de.
Klong
I 2018, The Ensemble Experimental (ENEX) is also involved in Klong, Freiburgs music festival for children. In a workshop, school students can explore the possibilities of electronic devices and live-electronics in music, questioning whether "robots and machines are able to play music?" By guidance of Detlef Heusinger, the goal is to develop a musical scene, answering that question.
Klong will be taking place from june 25th to july 1st, 2018.
For further information, see: www.experimentalstudio.de